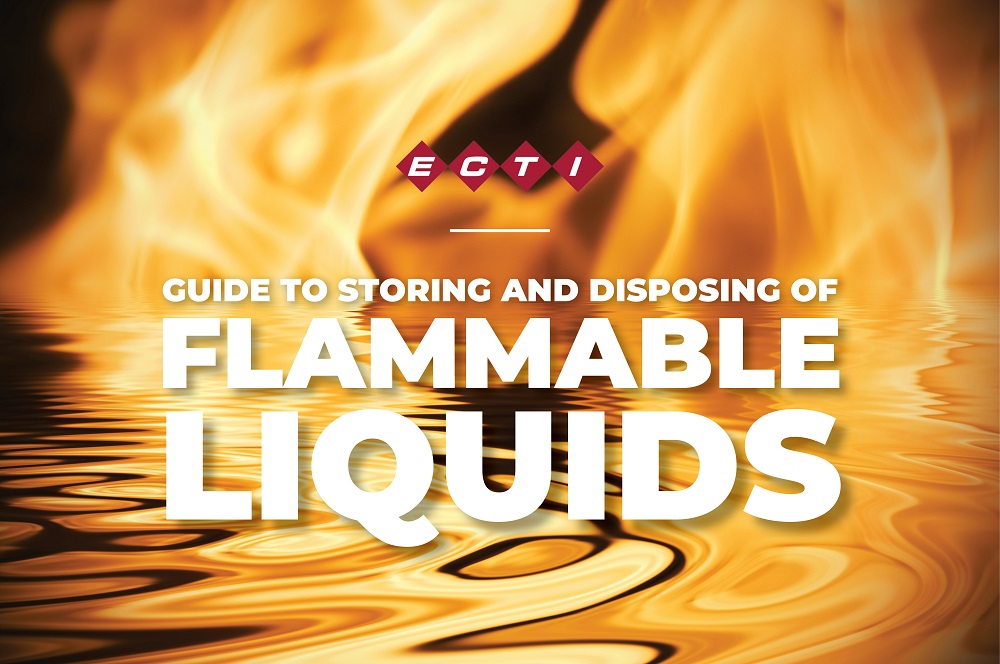 22 Jan

Guide to Storing And Disposing Of Flammable Liquids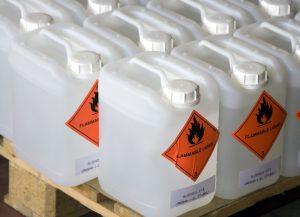 We at ECTI prioritize the safety of you and your facility. That's why we are prepared to assist you in the proper removal and transportation of your hazardous waste materials. However, before we can get to your site, make sure that your team has a thorough understanding of proper temporary storage. In this article, we'll discuss how you and your team can safely store and prepare for the disposal of yo
ur flammable and combustible liquids
.
1. How can I safely store flammable and combustible liquid containers?
First, as you prepare to store your liquids, be sure that you are aware of and understand the applicable laws, building, fire, and electrical codes to your materials and workplace. These are the essential guidelines to which you must strictly adhere. They will specify which storage areas are required for your materials as well as how to construct these storage areas and the amount of waste they can contain. Such regulations and laws might also include details of the maximum volume of the product that can be stored.
Storage containers: 
Details concerning your materials' storage containers are particularly important. First, containers should never be made of plastic or glass unless a preferred metal material would either compromise the material's purity or if the liquid would cause corrosion. Second, your building's fire code will specify the amount of liquid you can store at your workplace. However, generally, containers allow one liter for flammable liquids and five for combustible liquids. Finally, these containers must be accurately identifiable with proper WHMIS labels.
Storage areas: 
Storage areas should be managed with particular caution. Only authorized personnel should be given access, and each container should first be carefully inspected for damage or mislabeling before being stored. Make sure to keep this area separated from all sites of production or processes and to keep flammable and combustible liquids apart as well. Doing so will minimize the potential hazard of fire.
Logistics for use: 
As you operate your facility, keep in mind the logistics for handling your flammable and combustible materials. Keep the containers closed as much as possible and whenever they are not in use. Be sure also to limit the amounts of material in storage as much as possible. As a general rule, store no more than a single day's supply of liquids in the immediate workplace. And finally, ensure that leftovers are returned to the proper storage facility or container at the end of each day.
2. How do I dispose of these waste materials properly? 
Just as there are proper storage containers for your flammable and combustible liquids, there are also approved safety disposal cans available to you. Use these for any unused and disposable liquids.
Beware of "empty" containers: 
Even if a flammable or combustible liquid container is labeled "empty," beware that these might contain remnants of material– enough to create a hazard for an explosion. Keep in mind that only about 14mL of liquid is needed to create an explosive atmosphere in a 40 gallon drum. Such a minuscule amount can be trapped in a seam or create a thin covering on the inner surface of the container. Refrain from conducting any work such as welding, cutting, drilling, or soldering on "empty" drums, until all liquids and vapor are cleared. Contact your chemical manufacturer to ensure that it is entirely safe.
Disposal: 
When you are ready to dispose of these liquids, do so according to all relevant environmental laws. For counsel, contact the appropriate environmental officials. Finally, never pour waste down sinks or drains–only dispose of these materials through a hazardo
us waste collection and disposa
l company such as ECTI. We at ECTI are prepared to handle, transport, and safely dispose of your hazardous materia
ls. Reach o
ut today for advice on storage and disposal, and in the case that you require waste transportation.